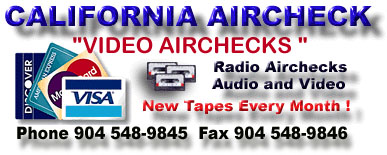 NEW PHONE NUMBER: (904) 548-9845 NEW FAX: (904) 548-9846
Look right into the studios of America's top radio stations and see the country's best personalities on the air as they do their shows!
California Aircheck Video tapes are available in VHS (NTSC format as used in US, Canada, and Japan) or VHS PAL format (for Europe, Asia, New Zealand, Australia, etc.). Please specify the desired format when you order your videos. Videos are $39.95 per copy for VHS and $54.95 for VHS PAL formats. Please add $5 for airmail shipping outside of the US and Canada.

NEW! DVD copies! $45.00 each. These are not spectacular movie quality but better than VHS quality for those who find DVD more convenient than VHS tape. Playable in the US and Canada and anywhere else that an NTSC DVD player is used! (These are Region Free discs)
NEW! PAL DVD copies that will play in your standard DVD player sold in Europe and Australia/New Zealand (or anywhere else in the world that PAL is your video system). $55.00 each for PAL DVD (plus $3 for airmail shipping).

VIDEO #120 (June 2011) $39.95 VHS, $40 DVD

, $50 PAL VHS CONVERSION TAPES for overseas use, $40 PAL DVD

for play anywhere in the world on a PAL DVD player (Region-free DVD). 2 hours Great video from around the country. Includes Classic Hits Cool 105.7 WOCL/Orlando with DOMINO (PM Drive), Hot AC Star 101.3 KIOI/San Francisco with DON BLEU and Trish (AM Drive), Philadelphia's CHR Q102 WIOQ with MAXWELL (nights), Atlanta's Hot AC Star 94 WSTR with CHASE DANIELS (PM Drive), Seattle's legendary CHR KUBE with HARRISON WOOD (nights), and Colorado Springs' AC KKPK The Peak with WOODY & TAMMY (AM Drive). 2 fun-filled hours of great radio.
| | |
| --- | --- |
| | DOMINO has moved from CHR to Classic Hits at Sunny 105.7 WOCL/ORLANDO but he is still SMOKIN' in PM Drive! Lots of phones, plus the Sunny 105.7 Jukebox gets fired up for a Beatles Wednesday! Great personality PM Drive show! |
From legendary San Francisco AC KIOI it's DON BLEU with Trish. Lots going on this morning..they have a phoner with Dr. Travis Stork from The Doctors, tons of phones with an ongoing topic of who takes longer to get ready in the morning, and a great "Bleuper" call. Killer personality morning show!
| | |
| --- | --- |
| | MAXWELL is the big night show at legendary CHR Q102 WIOQ/PHILADELPHIA. He's got plenty of phones, Ghost Stories, crap to give away, and more tonight. This is a great CHR night show! |
| | |
| --- | --- |
| | STAR 94 WSTR in ATLANTA has moved over to Hot AC from CHR but CHASE DANIELS is still smokin' in PM Drive! Tons of phones and he has a great "Mystery History" goof feature at 6PM. Hilarious! Luckily, he will have stopped using it by now because you'll want to steal it! |
| | |
| --- | --- |
| | HARRISON WOOD has a great night show at legendary CHR KUBE 93 SEATTLE! Plenty of phones, a mix tape hour with DJ Denaro where he still keeps the phones going, and plenty of crap to give away! |
WOODY and TAMMY were one of the big morning shows in COLORADO SPRINGS at AC The Peak KKPK. We catch the end of the show so it's a bit more music intensive but they still have plenty of phones and a running bit on what's your Colorado Crush (on a local celebrity). Great male-female morning show!
OVERSEAS ORDERS: BE SURE TO SPECIFY NTSC OR PAL VIDEO!