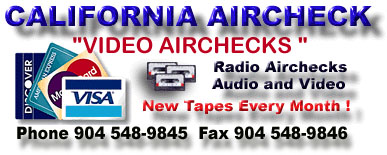 NEW PHONE NUMBER: (904) 548-9845 NEW FAX: (904) 548-9846
Look right into the studios of America's top radio stations and see the country's best personalities on the air as they do their shows!
California Aircheck Video tapes are available in VHS (NTSC format as used in US, Canada, and Japan) or VHS PAL format (for Europe, Asia, New Zealand, Australia, etc.). Please specify the desired format when you order your videos. Videos are $39.95 per copy for VHS and $54.95 for VHS PAL formats. Please add $5 for airmail shipping outside of the US and Canada.

NEW! DVD copies! $45.00 each. These are not spectacular movie quality but better than VHS quality for those who find DVD more convenient than VHS tape. Playable in the US and Canada and anywhere else that an NTSC DVD player is used! (These are Region Free discs)
NEW! PAL DVD copies that will play in your standard DVD player sold in Europe and Australia/New Zealand (or anywhere else in the world that PAL is your video system). $55.00 each for PAL DVD (plus $3 for airmail shipping).

VIDEO #121 (Oct. 2011) Discounted to $30 VHS, $30 DVD

, $40 PAL VHS CONVERSION TAPES for overseas use, $40 PAL DVD

for play anywhere in the world on a PAL DVD player (Region-free DVD). 2 hours Great video from around the country. Includes Classic Hits K-Hits WJMK with GEORGE McFLY (evenings), GUY PHILLIPS and COMPANY (Jen Myers, Courtney Landrum & Kevin The Intern) from AC KYKY Y98 ST. LOUIS (AM Drive), STEVE & STEPHANIE (Steve McCoy & Stephanie McHugh) at DENVER'S Classic Hits Kool 105 KXKL (AM Drive), TED ZIEGENBUSCH from AC KOST LOS ANGELES (Middays), Country WKIS MIAMI with WALKER & WALKER (Matt Walker, Kenny Walker & U-Turn LaVerne) (AM Drive), COLORADO SPRINGS' AC MY99.9 KVUU with C.K. (Middays), and PAUL FREEMAN at GO COUNTRY KKGO/LOS ANGELES (PM Drive). 2 fun-filled hours of great radio.

EASY ORDER BUTTON FOR US/CANADA CUSTOMERS
| | |
| --- | --- |
| | GEORGE McFLY is back in Chicago and he's SMOKIN', doing the night show at Classic Hits K-Hits 104.3 WJMK! The station is sounding great and so is McFly! Phones, and the legendary McFly act! Great night show! |
| | |
| --- | --- |
| | |
| | This is the BIG morning show in ST. LOUIS! PHILLIPS AND COMPANY (Guy Phillips, Jen Myers, Courtney Landrum and Kevin The Intern) from Hot AC Y98 KYKY! Lots of topical material, phones and laughes. KILLER morning show for any format! |
STEVE McCOY, after 20+ years doing mornings in Atlanta, moved to DENVER last year to team up with STEPHANIE McHUGH for the STEVE & STEPHANIE morning show at Classic Hits KOOL 105 KXKL. Tons of phones and great running bits this morning along with sports guy Sam Adams in studio. KILLER SHOW!
| | |
| --- | --- |
| | TED ZIEGENBUSCH has been with legendary Soft AC KOST LOS ANGELES on and off since the start in the early 80's. Today he holds down Middays and keeps the music rollin' on KOST 103. |
One of the newest morning shows in MIAMI is from Kiss Country WKIS with WALKER AND WALKER (MATT WALKER, KENNY WALKER and U-Turn LAVERNE). Lots of planned features and bits this morning. Great morning show!
| | |
| --- | --- |
| | C.K. (formerly known as Chris Knight) throws in tons of personality in the Midday shift at AC MY99.9 KVUU in COLORADO SPRINGS. Concert ticket giveaways and lots of fun from this midday show! |
| | |
| --- | --- |
| | GO COUNTRY KKGO LOS ANGELES is really starting to kick butt in LA and a strong part of that is the afternoon show with PAUL FREEMAN. Paul has been in LA since the late 70's and has really taken to the Country format. |
OVERSEAS ORDERS: BE SURE TO SPECIFY NTSC OR PAL VIDEO!