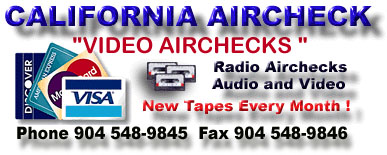 NEW PHONE NUMBER: (904) 548-9845 NEW FAX: (904) 548-9846
Look right into the studios of America's top radio stations and see the country's best personalities on the air as they do their shows!
California Aircheck Video tapes are available in VHS (NTSC format as used in US, Canada, and Japan) or VHS PAL format (for Europe, Asia, New Zealand, Australia, etc.). Please specify the desired format when you order your videos. Videos are $39.95 per copy for VHS and $54.95 for VHS PAL formats. Please add $5 for airmail shipping outside of the US and Canada.

NEW! DVD copies! $45.00 each. These are not spectacular movie quality but better than VHS quality for those who find DVD more convenient than VHS tape. Playable in the US and Canada and anywhere else that an NTSC DVD player is used! (These are Region Free discs)
NEW! PAL DVD copies that will play in your standard DVD player sold in Europe and Australia/New Zealand (or anywhere else in the world that PAL is your video system). $55.00 each for PAL DVD (plus $3 for airmail shipping).

VIDEO #124 (Nov. 2012) Discounted to $30 VHS, $30 DVD

, $40 PAL VHS CONVERSION TAPES for overseas use, $40 PAL DVD

for play anywhere in the world on a PAL DVD player (Region-free DVD). 2 hours Great video from around the country. From Chicago it's Classic Hits K-Hits 104.3 WJMK with GARY SPEARS (PM Drive), Denver's Hot AC KIMN Mix 100.3 with DOM & JANE (AM Drive), St. Louis' Country WIL-FM with CORNBREAD (AM Drive), Minneapolis' CHR KDWB with WAZZ (Nights) and Philadelphia's killer Morning Show PRESTON & STEVE from AOR WMMR. 2 fun-filled hours of great radio.
| | |
| --- | --- |
| | GARY SPEARS is smokin' in PM Drive at Chicago's Classic Hits 104.3 K-Hits WJMK. Phones and a big giveaway this afternoon. |
| | |
| --- | --- |
| | |
| | One of Denver's biggest morning shows is at Hot AC Mix 100.3 KIMN with DOM & JANE (with Emily & Jeremy). It's a Live Audience Friday (studio is huge with plenty of room to bring in an audience & feed them breakfast). Lots of phones and a great long bit with the "Mindbender" this morning! |
| | |
| --- | --- |
| | |
| | The CORNBREAD Morning Show (with Judi Diamond and Captain Mac Douglas) is one of the big AM Drive shows in St. Louis at Country WIL-FM. Plenty of phones this morning with "How Do You Get Kids To Eat Undesirable Food", an interview with Little Big Town and Freaky Friday Jokes. Great morning show for any format! |
WAZZ is the night slammer for CHR KDWB/Minneapolis and tonight he's doing the show live from the Minnesota State Fair. Great multi-story KDWB booth with a full studio on the top floor and Wazz also goes out front with a wireless mic. Amazing show for being away from the studio!
PRESTON & STEVE from AOR WMMR/Philadelphia - this is a HUGE morning show for Philly in more ways than one - massive studio (only used for mornings) with a long narrow studio across the glass with producers and interns and another large intern area - I've never seen such a large support staff before. One of the country's best AOR morning shows! In-studio interview with celebrity chef Jose Garces this morning, plus they rag on a listener who doesn't show up for an on-air kiss from intern Erin. This is just Part One of Preston & Steve; Part Two on Video #125! Amazing morning show!