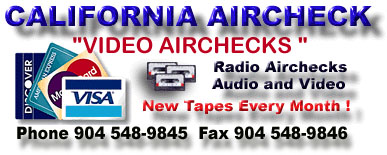 NEW PHONE NUMBER: (904) 548-9845 NEW FAX: (904) 548-9846
Look right into the studios of America's top radio stations and see the country's best personalities on the air as they do their shows!
California Aircheck Video tapes are available in VHS (NTSC format as used in US, Canada, and Japan) or VHS PAL format (for Europe, Asia, New Zealand, Australia, etc.). Please specify the desired format when you order your videos. Videos are $39.95 per copy for VHS and $54.95 for VHS PAL formats. Please add $5 for airmail shipping outside of the US and Canada.

NEW! DVD copies! $45.00 each. These are not spectacular movie quality but better than VHS quality for those who find DVD more convenient than VHS tape. Playable in the US and Canada and anywhere else that an NTSC DVD player is used! (These are Region Free discs)
NEW! PAL DVD copies that will play in your standard DVD player sold in Europe and Australia/New Zealand (or anywhere else in the world that PAL is your video system). $55.00 each for PAL DVD (plus $3 for airmail shipping).
BUY NOW BUTTON DIRECTLY BELOW IS FOR US CUSTOMERS

VIDEO #125 (May 2013) Discounted to $30 VHS, $30 DVD

, $40 PAL VHS CONVERSION TAPES for overseas use, $40 PAL DVD

for play anywhere in the world on a PAL DVD player (Region-free DVD). 2 hours
BOBBY AND STACEY at Oldies WOMC/DETROIT have one of the big morning shows in town. Includes BOB SCHUMAN with news. Lots of bits and personality. Today they have Who's The Liar and Stacey does the Polka Monster. Great morning show!
LISA DENT & RAMBLIN' RAY STEVENS are smokin' in AM DRIVE in CHICAGO at Country WUSN US99.5. Lots of phones. Today including "Yes Or BS" , The X Files, and a local story on whether your kids might be swimming naked at school. Another killer morning show.
| | |
| --- | --- |
| | STICK ON THE RADIO at CHR WNOU "Radio Now" is one of the few afternoon shows in INDIANAPOLIS with personality. STICK works the phones to pull out some gems. |
"FEE'S KOMPANY" (ALLAN FEE, KATHERINE, GLENN & Producer WOODY) is one of the big morning shows in CLEVELAND at HOT AC Q-104 WQAL. They talk today about Producer Woody running in the Portland Marathon and do their version of "Yes or BS". It's the morning show that has to pause to let the other shows catch up.
| | |
| --- | --- |
| | |
| | Lots going on this AM on ROSS BRITAIN & THE BREAKFAST CLUB (Ross, Val, Frank & Billy Z) from Oldies WOGL/PHILADELPHIA. They play Beat The Clock, and have CBS-3 consumer reporter Jim Donovan in-studio this AM. As always, a killer fast-paced morning show. |
This is part-two of a great look at PRESTON & STEVE from AOR WMMR/PHILADELPHIA. Huge morning show. Phone interview with Jon Cryer, plus the "Bizarre File" and Hollywood Trash. One of the country's best AOR morning shows.
OVERSEAS ORDERS: BE SURE TO SPECIFY NTSC OR PAL VIDEO!