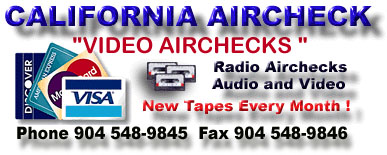 NEW PHONE NUMBER: (904) 548-9845 NEW FAX: (904) 548-9846
Look right into the studios of America's top radio stations and see the country's best personalities on the air as they do their shows!
California Aircheck Video tapes are available in VHS (NTSC format as used in US, Canada, and Japan) or VHS PAL format (for Europe, Asia, New Zealand, Australia, etc.). Please specify the desired format when you order your videos. Videos are $39.95 per copy for VHS and $54.95 for VHS PAL formats. Please add $5 for airmail shipping outside of the US and Canada.

NEW! DVD copies! $45.00 each. These are not spectacular movie quality but better than VHS quality for those who find DVD more convenient than VHS tape. Playable in the US and Canada and anywhere else that an NTSC DVD player is used! (These are Region Free discs)
NEW! PAL DVD copies that will play in your standard DVD player sold in Europe and Australia/New Zealand (or anywhere else in the world that PAL is your video system). $55.00 each for PAL DVD (plus $3 for airmail shipping).
BUY NOW BUTTON DIRECTLY BELOW IS FOR US CUSTOMERS

VIDEO #127 (October 2013) Discounted to $30 VHS, $30 DVD

, $40 PAL VHS CONVERSION TAPES for overseas use, $40 PAL DVD

for play anywhere in the world on a PAL DVD player (Region-free DVD). 2 hours
| | |
| --- | --- |
| | DOMINO is smokin' as usual on the afternoon drive shift at Classic Hits Sunny 105.9 WOCL/Orlando. He's a master of pulling great material off of the phones and doesn't disappoint today! |
| | |
| --- | --- |
| | CATFISH HUNTER (formerly Craig Hunt) does a great job at afternoon drive at US103.5 WFUS/Tampa, managing to squeeze in personality in the more music afternoon show. |
| | |
| --- | --- |
| | |
San Diego's only two-person afternoon show, it's SONNY WEST & SUSAN DEVINCENT (The Afternoon Drive) at AC KYXY (traffic guy Kevin absent today). Sonny does a great bit about his last trip to Coscto and they have Hollywood news from Mike Evans. Great PM Drive show! They previously did morning at KYXY and moved to afternoons after the station hired Jeff & Jer.
JAGGER and KRISTI are one of the big morning shows in San Diego at Old School Magic 92.5 XHRM. Lots of personality material this morning with Other People's Problems, War Of The Roses, Celebrity Smack, and don't forget "I'm Getting Those Boobs Back" on this AM's War Of The Roses, and a special long distance instant request this AM.
| | |
| --- | --- |
| | JEFF MILES does a great personality Midday show at CHR Q-100 WWWQ/ATLANTA! Great job on the phones! |
| | |
| --- | --- |
| | |
| | The staff has been cut way down since we last saw MASON DIXON at Classic Hits Q-105 WRBQ Tampa but he still has a killer morning show going on with Bobby Rich and Nikki Cruz. Lots of great bits! |
| | |
| --- | --- |
| | DAN JUSTIN is PM drive at soft AC Magic 106.7 in BOSTON. He squeezes in the personality on this more music format. |
OVERSEAS ORDERS: BE SURE TO SPECIFY NTSC OR PAL VIDEO!