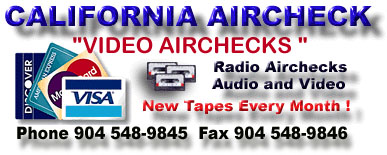 NEW PHONE NUMBER: (904) 548-9845 NEW FAX: (904) 548-9846
Look right into the studios of America's top radio stations and see the country's best personalities on the air as they do their shows!
California Aircheck Video tapes are available in VHS (NTSC format as used in US, Canada, and Japan) or VHS PAL format (for Europe, Asia, New Zealand, Australia, etc.). Please specify the desired format when you order your videos. Videos are $39.95 per copy for VHS and $54.95 for VHS PAL formats. Please add $5 for airmail shipping outside of the US and Canada.

NEW! DVD copies! $45.00 each. These are not spectacular movie quality but better than VHS quality for those who find DVD more convenient than VHS tape. Playable in the US and Canada and anywhere else that an NTSC DVD player is used! (These are Region Free discs)
NEW! PAL DVD copies that will play in your standard DVD player sold in Europe and Australia/New Zealand (or anywhere else in the world that PAL is your video system). $55.00 each for PAL DVD (plus $3 for airmail shipping).
BUY NOW BUTTON DIRECTLY BELOW IS FOR US CUSTOMERS

VIDEO #128 (March 2014) Discounted to $30 VHS, $30 DVD
, $40 PAL VHS CONVERSION TAPES for overseas use, $40 PAL DVD
for play anywhere in the world on a PAL DVD player (Region-free DVD). 2 hours
FRED and ANGI (Christopher Frederick and Angi Taylor) are kicking butt in Chicago AM Drive at CHR Kiss FM WKSC/Chicago. Tons of phones this morning and Angi does her world-class impressions along with some of the listeners. KILLER MORNING SHOW!
| | |
| --- | --- |
| | "The Outlaw" PAT GARRETT has one of the few afternoon personality shows in Seattle radio at Country KMPS. KMPS has a very modern CHR type sound and Pat has plenty of phones. Awesome afternoon show for any format! |
| | |
| --- | --- |
| | One of the big morning shows for Detroit is Country WYCD with DR. DON, RACHAEL and GRUNWALD. Today they have Jason the 300-pound cowboy stopping by 7-11 stores for free slurpies and plenty of phones. |
SAN DIEGO's new CHR is Energy 103.7 KEGY; we catch both JOE ROSATI on middays and TIM VIRGIN in PM Drive. They both squeeze in phones and personality!
| | |
| --- | --- |
| | Murphy is missing from the MURPHY & DENISE morning show but DENISE carries on this AM with a great solo morning show. Lots of interaction with her traffic guy Jonathan |