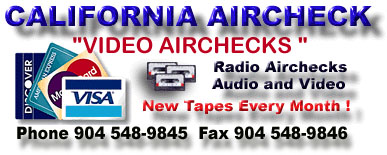 NEW PHONE NUMBER: (904) 548-9845 NEW FAX: (904) 548-9846
Look right into the studios of America's top radio stations and see the country's best personalities on the air as they do their shows!
California Aircheck Video tapes are available in VHS (NTSC format as used in US, Canada, and Japan) or VHS PAL format (for Europe, Asia, New Zealand, Australia, etc.). Please specify the desired format when you order your videos. Videos are $39.95 per copy for VHS and $54.95 for VHS PAL formats. Please add $5 for airmail shipping outside of the US and Canada.

NEW! DVD copies! $45.00 each. These are not spectacular movie quality but better than VHS quality for those who find DVD more convenient than VHS tape. Playable in the US and Canada and anywhere else that an NTSC DVD player is used! (These are Region Free discs)
NEW! PAL DVD copies that will play in your standard DVD player sold in Europe and Australia/New Zealand (or anywhere else in the world that PAL is your video system). $55.00 each for PAL DVD (plus $3 for airmail shipping).
BUY NOW BUTTON DIRECTLY BELOW IS FOR US CUSTOMERS
VIDEO #129 (August 2014) Discounted to $30 VHS, $30 DVD

, $40 PAL VHS CONVERSION TAPES for overseas use, $40 PAL DVD

for play anywhere in the world on a PAL DVD player (Region-free DVD). 2 hours
One of the best morning shows in LOS ANGELES is Classic Hits KRTH (K-Earth 101)'s GARY BRYAN with LISA STANLEY. Lots going on this morning - The "Cash Kitty", "Beat The Pump", a phoner with Shotgun Tom Kelly and another phoner with Arsenio Hall. Killer personality morning show!
Great Country morning show at Philadelphia's WXTU with DOC & ANDIE! A birthday celebration for producer Crockett and lots of phones this morning, plus "What The Bleep"...Awesome morning show for any format!
It's "Father - Daughter Radio" this afternoon at Classic Hits WKQK in MEMPHIS! WILLIE B. and daughter LILLY BUD. Willie is working the phones to pull off tons of bits and even has listeners writing bits & calling them in! Great afternoon show!
Good country morning show from LAS VEGAS' Coyote Country KCYE with RICK AND KRIS! Phones, topical bits & a Luke Bryan concert trip to give away. Great male-female morning show!
| | |
| --- | --- |
| | It's the All Request Lunch Hour with TERRIE SPRINGS at LAS VEGAS Classic Hits KKLZ. Bunch o' phones with Terrie's personality midday show! |
One of the best morning shows in MEMPHIS from AC The River WRVR; MIKE AND MANDY! They've got "The Freak Files" and "Dirt Alert" this morning. A lot of topical material on the show this morning!
OVERSEAS ORDERS: BE SURE TO SPECIFY NTSC OR PAL VIDEO!