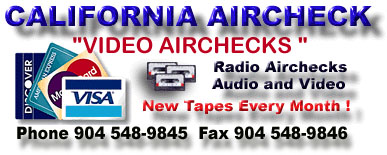 VIDEO #131
Look right into the studios of America's top radio stations and see the country's best personalities on the air as they do their shows!
California Aircheck Video tapes are available in VHS (NTSC format as used in US, Canada, and Japan) or VHS PAL format (for Europe, Asia, New Zealand, Australia, etc.). Please specify the desired format when you order your videos. Videos are $39.95 per copy for VHS and $54.95 for VHS PAL formats. Please add $5 for airmail shipping outside of the US and Canada.

NEW! DVD copies! $45.00 each. These are not spectacular movie quality but better than VHS quality for those who find DVD more convenient than VHS tape. Playable in the US and Canada and anywhere else that an NTSC DVD player is used! (These are Region Free discs)
NEW! PAL DVD copies that will play in your standard DVD player sold in Europe and Australia/New Zealand (or anywhere else in the world that PAL is your video system). $55.00 each for PAL DVD (plus $3 for airmail shipping).
VIDEO #131 (October 2015) Discounted to $30 VHS, $30 DVD

, $40 PAL VHS CONVERSION TAPES for overseas use, $40 PAL DVD

for play anywhere in the world on a PAL DVD player (Region-free DVD). 2 hours Great video from around the country. Video #131 includes 2 fun-filled hours of great radio. From BOSTON it's the area's #1 morning show, LOREN AND WALLY from Classic Hits WROR, JOE ROSATI from SAN DIEGO's CHR Energy 103.7 (middays), AC MIX 96.9 PHOENIX with the MATHEW BLADES MORNING SHOW (Mathew Blades, Priscilla & Justin), WASHINGTON'S Country WMZQ with Michael J. (PM Drive), ATLANTA'S CHR POWER 96-1 WWPW with SCOTTY K. and RILEY (AM Drive), and DALLAS' CHR KHKS Kiss 106.1 with CRUZ (Nights). Great personalities from all formats and dayparts.
USA AND CANADIAN CUSTOMERS CAN USE THE BUY IT NOW BUTTON ABOVE TO PURCHASE VIDEO #131
Still the huge morning show in BOSTON, it's LOREN AND WALLY (with L.B. and Hank Morse) from Classic Hits WROR. Tons of hilarious material on this morning's show including L.B.'s $400 cup of coffee and "Wallyology". Killer morning show!
| | |
| --- | --- |
| JOE ROSATI does an awesome midday show at CHR Energy 103.7 KEGY SAN DIEGO. Great phones! | |
| | |
| --- | --- |
| The personality afternoon show in Washington DC is from Country WMZQ with MICHAEL J.! He's constantly grabbing gems from the request lines at WMZQ on a Commercial-Free Tuesday. | |
Really amazing morning show from AC MIX 96.9 KMXP PHOENIX - The MATHEW BLADES MORNING SHOW with Mathew, Priscilla and producer Justin. Tons of topical material including world famous comedian "Bob" Marley (recording a break for play the following morning) - "Don't Blow It" and "I Can't Believe My Dog Ate What" - plus they own up to blowing it on Don't Blow It. Plus the Five O'Clock Club & an extended phone bit on Justin & his girlfriend. Awesome morning show!
SCOTTY K. AND RILEY are a great new morning team in ATLANTA at CHR Power 96-1 WWPW! This morning including Hollywood Hashtag with Riley, and Scotty's birthday gift competition. This is a morning show to keep an eye on in Atlanta!
| | |
| --- | --- |
| CRUZ moved to the night shift at CHR KISS 106.1 KHKS in DALLAS after BILLY THE KIDD took over afternoons. In the tradition of great night show at KHKS, CRUZ is doing an awesome job at night with bits and phones. Awesome night show! | |