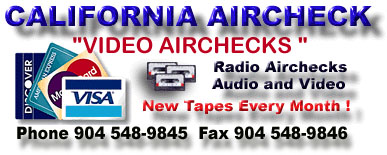 VIDEO #132
Look right into the studios of America's top radio stations and see the country's best personalities on the air as they do their shows!
California Aircheck Video tapes are available in VHS (NTSC format as used in US, Canada, and Japan) or VHS PAL format (for Europe, Asia, New Zealand, Australia, etc.). Please specify the desired format when you order your videos. Videos are $39.95 per copy for VHS and $54.95 for VHS PAL formats. Please add $5 for airmail shipping outside of the US and Canada.

NEW! DVD copies! $45.00 each. These are not spectacular movie quality but better than VHS quality for those who find DVD more convenient than VHS tape. Playable in the US and Canada and anywhere else that an NTSC DVD player is used! (These are Region Free discs)
NEW! PAL DVD copies that will play in your standard DVD player sold in Europe and Australia/New Zealand (or anywhere else in the world that PAL is your video system). $55.00 each for PAL DVD (plus $3 for airmail shipping).
VIDEO #132 (April 2016) Discounted to $30 VHS, $30 DVD

, $40 PAL VHS CONVERSION TAPES for overseas use, $40 PAL DVD

for play anywhere in the world on a PAL DVD player (Region-free DVD). 2 hours Great video from around the country. Video #132 includes 2 fun-filled hours of great radio. From INDIANAPOLIS it's CHR leader WZPL with the SMILEY MORNING SHOW, LAUREN CROCKER (midday) and ROBBY BRIDGES (PM Drive) from Nash Country 93.1 WDRQ DETROIT, ROWDY, CARLY & SUNNY from Country KVOO-FM TULSA (AM Drive), ANDY BARBER from Classic Rock KBEZ BOB-FM TULSA (AM Drive), and from AC FM-100 WMC-FM MEMPHIS it's RON OLSON & MICHELLE LEWIS (AM Drive). Great personalities from all formats and dayparts.
USA AND CANADIAN CUSTOMERS CAN USE THE BUY IT NOW BUTTON ABOVE TO PURCHASE VIDEO #132
THE morning show for INDIANAPOLIS from CHR 99.5 WZPL - THE SMILEY MORNING SHOW! DAVE SMILEY, NIKKI, TONI & PRODUCER WILL. SMILEY is off the wall funny. This show includes "Whatcha Doin' At The Courthouse" which is hilarious!
| | |
| --- | --- |
| | Great midday show from LAUREN CROCKER at WDRQ 93.1 NASH FM in DETROIT! Contesting and personality. |
| | |
| --- | --- |
| | ROBBY BRIDGES does a very contemporary afternoon show at WDRQ 93.1 NASH FM Country in DETROIT! And when's the last time you saw a DJ wearing a coat and tie on air! |
| | |
| --- | --- |
| | |
| | The "VOO Crew" is ROWDY, CARLY & SUNNY at Country KVOO-FM TULSA (AM Drive). Lots of phones and personality; including "Show Biz Smackdown" and "Did Your Parents Try To Kill You" this morning. And just what is the diabolical plot against ROWDY YATES? Great morning show! |
| | |
| --- | --- |
| | ANDY BARBER is stuffed in the BOB-FM closet at KBEZ TULSA. Andy has been doing mornings in Tulsa for almost 30 years now; last time we saw him was in 1988. You get maximum music in the morning along with that Barber wise-ass attitude. |
This is the big morning show for MEMPHIS - RON OLSON & MICHELLE LEWIS at AC WMC-FM FM-100! Heavy phones and lots of personality. Including "Screwy News" this morning.
OVERSEAS ORDERS: BE SURE TO SPECIFY NTSC OR PAL VIDEO!